Now Available On Demand
PLACE: Your computer or mobile device
PRICE:  $197
CLE: 1 credit
Please send CLE questions to
CLE@LitigationConferences.com
SPEAKERS:

Judy Selby
Principal
Judy Selby Consulting LLC 
Scott Godes
Partner
Barnes & Thornburg

Please contact us with any registration questions:
Brownie.Bokelman@LitigationConferences.com
Kathleen.McFadden@LitigationConferences.com
Your registration includes:
•  A site license to attend this webinar (invite as many people in one location as you can fit around your computer at no extra charge).
• Downloadable PowerPoint presentations from our speakers.
•  The opportunity to connect directly with speakers via email to
       HBWebinars@LitigationConferences.com
•  At least one-hour of CLE credit.
Produced in collaboration with
Judy Selby Consulting LLC

Also available as part of your subscription at
the Thomson Reuters West LegalEdcenter.

What's in your cyber policy?
Cyber insurance can provide a lifeline to companies dealing with today's high stakes and constantly evolving cyber risk and regulatory compliance landscape. But not all cyber policies are created equal, and a single policy word can mean the difference between a covered and an uncovered claim. 
In this session, we analyze various cyber insurance coverage terms, conditions, and exclusions and describe how the words can impact coverage for real-life claims.
What you will learn:
• Important differences among generally available insurance coverages for cyber and privacy risks
• Understanding basic cyber insurance policy conditions and how they can affect coverage 
• The importance of common insurance policy provisions concerning "other insurance" and "choice of law" in the cyber insurance context
• How certain cyber insurance policy exclusions can affect coverage for common cyber and privacy liabilities
• How to reconcile coverage under cyber insurance policies with other "traditional" insurance policies
---
Speakers
Judy Selby | 

Principal | Judy Selby Consulting LLC 
Judy brings 25 years of insurance coverage litigation experience on behalf of insurers and policyholders to her insurance consulting work and this webinar. She has a particular expertise in cyber insurance and coverage under various policy forms for today's emerging risks. Judy provides coverage evaluation, policy negotiation, and gap analysis services to companies across multiple industries, helping them to make the most of their insurance premium dollars. She also provides insurance due diligence, expert witness and litigation consulting services to both policyholders and insurance companies in coverage disputes.
In the course of her career, she has evaluated coverage under a wide variety of policy forms, including: CGL; D&O / E&O; Employment Practices; Homeowners / Fine Arts & Collections / Auto; Tech E&O; Commercial Property; Manufacturers Output (MOP) / Commercial Output (COP); Bermuda Form; Crime; and Fidelity.
She is a prolific author and sought-after speaker on insurance, cyber, technology, and compliance issues. She has been quoted in leading publications, including the Wall Street Journal, Fortune, Forbes, Reuters, Directors & Boards, InformationWeek, Business Insurance, Law360, Bloomberg BNA, CIO, CSO, Insurance Business America, National Law Journal, Dark Reading, Corporate Executive Board, and LegalTech News. Judy has authored the eBooks "Demystifying Cyber Insurance: 5 Steps to the Right Coverage" and "Big Data for Business Leaders."
In addition to her law degree, she have completed courses in Finance with Harvard Business School HBX, Big Data, Crisis Management/Business Continuity, Cyber Security and the Internet of Things (IoT) with the Massachusetts Institute of Technology (MIT) Professional Education, and Cloud Computing with IEEE.
Judy is a former co-chair of the CLM Cyber Committee and member of the Law360 Insurance Editorial Board and a 2015 finalist for the CLM Outside Professional of the Year award.
Scott Godes | Partner | Barnes & Thornburg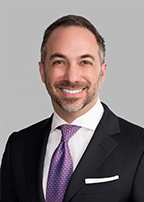 Scott N. Godes (pronounced GOD-ess) is a veteran trial lawyer with experience litigating – in and out of trial – matters involving insurance coverage, technology and Section 337 of the Tariff Act before the International Trade Commission (ITC). He is a partner in Barnes & Thornburg LLP's Washington, D.C., office and is a member of the firm's Litigation Department, co-chair of the Data Security and Privacy Practice Group, and a member of the Insurance Recovery and Counseling Group, the Internet & Technology Law Group and the Federal Procurement Practice Group.
Scott has assisted a variety of clients over the years to obtain more than $1 billion in insurance coverage. In one of his most significant matters, he was co-lead counsel in a landmark class action trial. It was the first case of its kind to determine that insurance coverage was available, without aggregate limits, for thousands of asbestos claims. In addition, he represents clients facing cybersecurity, data breach, cyberattack, privacy and other technology-related claims.
Scott has litigated one of the few court cases regarding the scope of coverage available under a cyberinsurance policy, resulting in favorable settlements for his client.
Scott serves as co-chair of the Cyber Risk & Data Privacy Subcommittee of the American Bar Association Section of Litigation Insurance Coverage Litigation Committee. He has also been a co-chair of the American Bar Association's Computer Technology Subcommittee of the Insurance Coverage Litigation Committee. He edits the BT Policyholder Protection blog. Since 2017, Scott has been named on The Best Lawyers in America list for his work in insurance law.
He has represented policyholders in declaratory judgment, breach of contract, and bad faith insurance coverage actions, insurance-related bankruptcies and adversary actions, federal court receiverships, insurer rehabilitation actions, and commercial arbitrations. He has litigated and advised clients regarding insurance coverage for cyberattacks, data breaches, and cyber security issues; business email compromises and CEO fraud; advertising injury claims; personal injury and libel claims; ransomware claims; Telephone Consumer Protection Act (TCPA) claims; directors and officers and securities claims; errors and omissions claims; crime and fidelity claims; general liability claims; consumer class action claims; business interruption, extra expense, and contingent business interruption claims; first-party property claims; computer data, hardware, and software claims; mass tort liabilities; product liability claims; class actions; asbestos claims; environmental property damage involving PCBs and underground storage tanks (UST); flood claims; and class actions.
Scott received a J.D., with honors, in 1998 from The George Washington University Law School, where he was managing editor for the Public Contract Law Journal and was a member of the Moot Court Board. He received his B.A., cum laude, from Middlebury College in 1994.