Facial Recognition Technology — Emerging After Decades of Development — Draws Lawsuits and Proposed Bans
We sometimes forget that not all of the technical wizards who transformed our world were young "geniuses" jacked up on Starbucks, their shirttails hanging out in the ping-pong section of their open concept offices. Woody Bledsoe was born 99 years ago. As a young son of a sharecropper he demonstrated exceptional mathematical capabilities. Early in his career he had a dream: A machine that could think like a human, converse like one, and even recognize faces. This was as far back as the 1950s. This mathematician and computer scientist would go on to teach for decades at the University of Austin where he worked to advance automated reasoning and artificial intelligence.

But what was his role in the development of the technology exactly? Did he perform work for a CIA front? And why, in his old age and suffering from the cruelty of ALS that would ultimately kill him in 1995, did he ask his son to set fire to a stack of old papers? Take a look at "The Secret History of Facial Recognition" written by Shaun Raviv for Wired Magazine, which explores why, among other things, "the record of [Blesdoe's] role all but vanished." If there isn't a movie script in the works there probably will be soon.  

Today facial recognition is used in such innocent and handy ways as pointing out your friends in a photograph on Facebook to infinitely more serious and controversial applications as identifying people who may or may not be of interest to law enforcement.   

We're in what should be an expected phase with something so disruptive and, let's face it, lucrative. That's the phase where lawyers and lawmakers dive in to grapple with how to square the disruption with the laws and norms of society. Facebook has been on the blunt end of this recently, as has the company Clearview AI and even the New York Department of Education, which uses facial recognition programs in his schools. Civil rights groups have been increasingly critical of law enforcement use of facial recognition software, as the technology has proven to be inaccurate at times, especially among ethnic groups, women and young people. 

Tom Hagy
Managing Director
Facebook
Settle
s
Class Action
 for $550 million
Facebook faces considerable legal challenges on many fronts and on multiple continents. It recently agreed to put at least one challenge behind it by paying $550 million to settle a class-action lawsuit over its use of facial recognition technology in Illinois, home of the much-heralded 2008 Illinois Biometric Information Privacy Act. This is widely considered to be a major victory for those who have repeatedly raised questions about what they say are the social media company's questionable data-mining practices. The suit argued that Facebook's "Tag Suggestions" feature, which allows users to "tag" other uses in their photos using a face-matching software, therefore allowing Facebook to harvest facial data from millions of users, violates privacy rights. Facebook said the settlement as it was in the best interest of the community and its shareholders. Plaintiff attorney Jay Edelson, whose firm represented the Facebook users, told the New York Times, "From people who are passionate about gun rights to those who care about women's reproductive issues, the right to participate in society anonymously is something we cannot afford to lose." The Times piece referenced an Illinois Supreme Court ruling which upheld consumers' right to sue companies for collecting biometric data (fingerprints, iris scans) without informing consumers about the intended use of the data. That was in a case filed against Six Flags Entertainment Corp. For collecting a teenager's fingerprints when he purchased a season pass at a Six Flags park. Rosenbach v. Six Flags Entertainment Corp., 2019 IL 123186. 
More from the Illinois Supreme Court, New York Times, Consumer Reports, and Chicago Tribune: 
Clearview AI Facial Recognition Company Faces Another Lawsuit
Clearview AI, a controversial facial recognition app that is used by U.S. law enforcement to identify suspects and other people, is facing a lawsuit, also under the Illinois Biometric Information Privacy Act. The action was filed in Cook County Superior Court by the ACLU and others which seeks class-action status and $5 million in damages for what it calls "willful, reckless or negligent violations of biometrics laws." The plaintiffs are fighting Clearview's collection, storage and use of biometric information without written consent. "Clearview has amassed a database of more than 3 billion photographs that it scraped from sources including Instagram, Twitter, YouTube, Facebook, Venmo and millions of other websites," the plaintiffs charge. "Users can take a picture of a stranger on the street, upload it to Clearview's tool and instantly see photos of that person on various social media platforms and websites, along with the person's name, address and other identifying information." The Chicago Police Department reportedly paid nearly $50,000 for a two-year contract to use the facial recognition software. Joining the national and Illinois ACLU organizations, are the Chicago Alliance Against Sexual Exploitation, the Sex Workers Outreach Project Chicago, the Illinois State Public Interest Research Group, Inc., and Mujeres Latinas en Acción.  
More from the ACLU and CNET:  
Facial Recognition Lawsuit Targets NY Schools Over Student Privacy
 A lawsuit against the New York State Education Department is looking to dismantle a $3 million facial recognition system in schools, citing student privacy concerns and the technology's issues with racial and gender bias. The Lockport School District is one of the first US public school systems to use the technology on students and staff. They began using the technology in January of this year. The lawsuit, filed by the New York Civil Liberties Union on behalf of Lockport parents, argues that the use of facial recognition technology violates the state's privacy protections under New York's Education Law. The NYCLU is seeking to have the technology removed from schools. The state originally granted the use of funds for the facial recognition software to the Lockport School District because they claimed that the technology would protect student privacy.  
More from CNET and EdWeek: 
Federal Legislators Want to Address Privacy, Wrongful Arrest Concerns
Meanwhile, a bicameral proposal from the Senate and House seeks to bring a halt to law enforcement's use of facial recognition not only to protect privacy but, as they said, to prevent physical harm to people, especially people of color, who are wrongfully identified as criminal suspects.  
On June 25, 2020, Senator Edward J. Markey (D-Mass.), along with Senator Jeff Merkley (D-Ore.), Congresswoman Pramila Jayapal (WA-07) and Congresswoman Ayanna Pressley (MA-07) announced they would introduce a ban on governmental use of biometric technology, including facial recognition tools. "The Facial Recognition and Biometric Technology Moratorium Act responds to reports that federal and local law enforcement entities have engaged with facial recognition companies and follows recent pledges by leading technology companies to pause their sale of facial recognition tools to law enforcement," according to the senators' statement.  
"A growing body of research points to systematic inaccuracy and bias issues in biometric technologies, which pose disproportionate risks to non-white individuals," the senators said.
"A recent report by the National Institute of Standards and Technology on facial recognition tools found that Black, Brown, and Asian individuals were up to 100 times more likely to be misidentified than white male faces.  Yesterday, the American Civil Liberties Union (ACLU) amplified the story of Robert Williams, a Black man from the Detroit area who was wrongfully arrested after facial recognition technology misidentified him as the man who was seen allegedly committing a crime on a store's surveillance camera feed."    
"Facial recognition technology doesn't just pose a grave threat to our privacy, it physically endangers Black Americans and other minority populations in our country," said Senator Markey. 
"As we work to dismantle the systematic racism that permeates every part of our society, we can't ignore the harms that these technologies present. I've spent years pushing back against the proliferation of facial recognition surveillance systems because the implications for our civil liberties are chilling and the disproportionate burden on communities of color is unacceptable. In this moment, the only responsible thing to do is to prohibit government and law enforcement from using these surveillance mechanisms."      
"At a time when Americans are demanding that we address systemic racism in law enforcement, the use of facial recognition technology is a step in the wrong direction," Markey said.  
Congresswoman Jayapal opposes retail sales of facial recognition products. "For years, I have called on companies like Amazon to stop selling facial recognition technology that has not only been invasive, inaccurate and unregulated but has also been unapologetically weaponized by law enforcement against Black people across this country for far too long. Introduced on the same day that the House is set to pass the George Floyd Justice in Policing Act, our legislation will not only protect civil liberties but it will aggressively fight back against racial injustice by stopping federal entities from using facial recognition tools and stripping support for state and local law enforcement departments that use biometric technology."  
The Justice in Policing Act, would, among other things, disallow uniformed officers from using dashcams and bodycams that utilize facial recognition software. It also specifies that police departments using federal grants to buy or rent bodycams must adopt policies on the use of facial recognition on the footage from the devices, including securing a judge's approval and only deploying it in cases of "imminent threats or serious crimes." However, many civil rights groups, including the ACLU, feel that these provisions don't go nearly far enough to protect people from possible discrimination and wrongful arrest, which they describe as "incredibly biased technology." "IBM, Amazon, and Microsoft all said they would halt sales of facial recognition to U.S. police and called on Congress to impose rules on use of the technology," Wired Magazine reported. 
Congresswoman Pressley called the technology "fundamentally flawed, systemically biased, and has no place in our society," adding that "Black and brown people are already over-surveilled and over-policed, and it's critical that we prevent government agencies from using this faulty technology to surveil communities of color even further." 
See articles and copies of the bills from CNET, Wired, NPR, Sen. Markey, and NBC: 
Chicago-based privacy law expert Debbie Reynolds summed it up this way: "Use of Facial Recognition will cause an unprecedented need for collaboration between law and technologies to preserve and further support the rights of individuals around the world."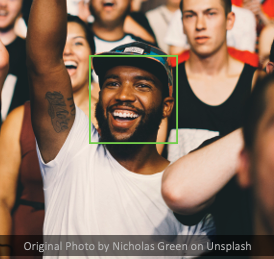 "For years, I have called on companies like Amazon to stop selling facial recognition technology that has not only been invasive, inaccurate and unregulated but has also been unapologetically weaponized by law enforcement against Black people across this country for far too long." — Rep. Ayanna Pressley (MA-07). Photo by Nicholas Green on Unsplash
"Use of Facial Recognition will cause an unprecedented need for collaboration between law and technologies to preserve and further support the rights of individuals around the world."
Debbie Reynolds
Debbie Reynolds Consulting, LLC
Founder, CEO, and Chief Data Privacy Officer