COVID-19 vs Cannabis: Are Closures Legal?
In the category of "damned if you do; damned if you don't," Massachusetts Governor Charlie Baker shut down recreational cannabis shops, citing concerns over the spread of COVID-19. The dispensaries say the shutdown could seriously damage the industry. But, the governor said, the spread of disease will continue to damage the health of his constituents, especially as residents of states where recreational marijuana is illegal, come to Massachusetts to do their cannabis shopping. Citizens of the state may still obtain medical cannabis, as reported by WBUR.
Too Much TCH: Can CBD Use Cost You Your Job?
A New York truck driver has sued a CBD company for allegedly making a product, which he says he uses for pain relief, with too much THC, more than the label indicates. A Pennsylvania woman filed a similar case and a Missouri school bus monitor had a similar experience. Another Missourian blames the store where he purchased his CBD, saying he was assured the product contained minimal THC. All claim they were told they could pass drug tests. All failed their test. And all lost their jobs, according to a post on the Huffs & Puffs website.
"Courtesy of a dearth of strict standards of testing, many companies tend to list lower values of THC on the product label," writes Huffs & Puffs. "The quantities of THC will never be 'as high to make you high' but they may be enough for you to fail a drug test, conducted via not the most of the sophisticated equipment out there."
"For entrepreneurs in the cannabis niche, this is a topic of huge concern as the number of such lawsuits are only going to increase as people keep failing drug tests after consuming CBD.
Not Enough THC: No Golden Ticket
Californians have proposed a class action against the owners of a CBD-infused-chocolate factory for selling candy with far less CBD and THC than advertised. For consumers these ingredients justified the premium prices they were paying. And yet, as shareholders, executive officers and managers allegedly knew, the levels were below what the labels had them believe, says Law360.
No Proof of Health Claims
The FTC has sued Whole Leaf Organics over the company's claims that their CBD products effectively treat cancer and prevent or reduce COVID-19 risk. The Bureau of Consumer Protection says that there is "no proof that any product will prevent or treat COVID-19 or that any CBD product will treat cancer." We can only hope.
The California marketer and founder of Whole Leaf, Marc Ching, agreed to a preliminary order that prohibits him from making those claims. Pending the resolution of a parallel FTC administrative action, the proposed order also bars the defendant from representing that three CBD-based products he sells are effective cancer treatments.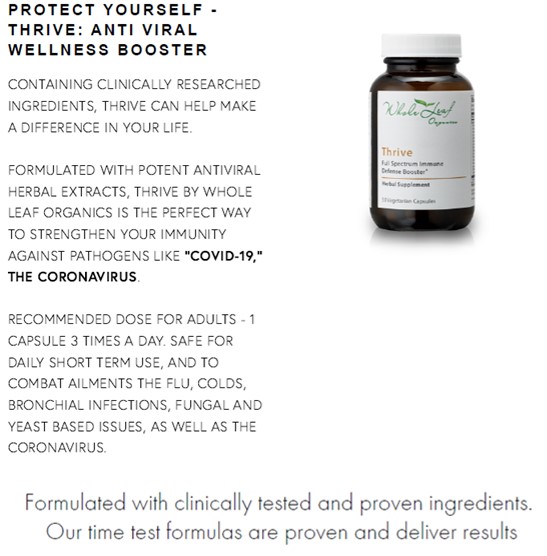 According to the FTC: Since December 2018, defendant Marc Ching, also doing business as Whole Leaf Organics, has sold Thrive – a tablet consisting primarily of Vitamin C and herbal extracts. But beginning in March 2020, Thrive underwent something of a marketing make-over. The defendant began pitching the product as a way for consumers to ward off coronavirus. His website claimed, "Formulated with potent antiviral herbal extracts, Thrive by Whole Leaf Organics is the perfect way to strengthen your immunity against pathogens like 'COVID-19,' the coronavirus." The defendant also represented that the product is indicated to "combat" a list of ailments, "as well as the coronavirus." In addition, the defendant claimed Thrive is "formulated with clinically tested and proven ingredients" and that "our time test formulas are proven and deliver results."