Virtual Trials, Hearings & Mediations:




Working with jurors doing laundry, adversaries you can't read, and other practical observations. 
December 1, 2020
2ET | 1CT | 12MT | 11PT
Meeting with people in distant locations is nothing new, of course.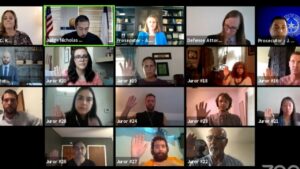 Webinars and corporate conference calls have long been done via telephone, web platforms, and highly sophisticated multicamera rigs that virtually put people in the same "conference room," seemingly looking eye to eye. Hologram meetings will eventually be the norm. But for some engagements and interactions we would never have considered not being in the same room together. The 2020 pandemic changed that; it forced the issue and didn't give anyone much time to think about it. Now, professionals are finding great advantages to this new way of engaging, while trying to mitigate the numerous disadvantages. Legal proceedings are among those interactions in which face-to-face engagement has always been considered a must. Since traveling and being in a room together puts people at risk, courts and counsel are working with webcams like never before.
The first virtual asbestos trial, involving a man who developed mesothelioma allegedly due to asbestos in brake pads, was held in Alameda County Superior Court in California. Judge Jo-Lynne Lee presided. As with many toxic tort cases, the matter involved hundreds of thousands of documents, multiple expert witnesses, numerous cross-examinations, and all the usual segments of a complex trial — openings, closings, motions, breaks, and deliberations. This was no small matter, as the plaintiff's attorneys were asking for $70 million from defendant Honeywell.
Meanwhile, depositions, hearings, and mediations are taking place via a variety of platforms, too. While many mediators would prefer an in-person meeting with all decision makers present, remote web meetings offer a reasonable alternative if the neutral and the parties follow some simple best practices.
Join our panel of experts as they take turns sharing their insights, experiences, and best practices you can put to work right away in your next virtual hearing or trial.
Questions They Will Address:
What are the advantages of virtual proceedings and how can you put them to work?
What are some of the disadvantages, such as difficulty "reading the room," and how can you best mitigate those disadvantages?
Can you really execute an effective cross-examination via webcam?
Given the increased importance of PowerPoint and other visual presentations, what can you do to up your design game?
What can you do to best prepare for this unfamiliar format? Should you have pre-calls or do anything differently with exchanges of documents and briefs beforehand or during the proceedings?
You need to establish ground rules. Do you know what they should be? What should judges know and how can the parties assist them? Are there any special instructions judges and neutrals should consider?
What do you, the parties, and all the players need to understand about making the technology work?
Plus, they will answer your questions either by live chat or by email before and after the program.
Registration includes recording, materials, answers to your questions, & CLE credit. Sign me up!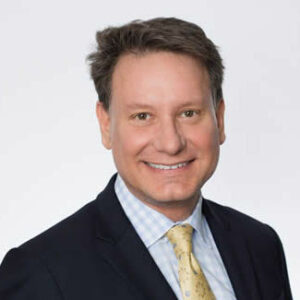 David Ongaro
Founder & Managing Partner
Ongaro PC
David Ongaro is the founder and managing partner of Ongaro PC.  David has successfully tried high-value cases to verdict all over the United States. He is frequently called into cases solely for the purpose of trial, and has tried more than thirty complex cases. In addition, David has successfully handled some of the largest employment class action cases in California. With more than 25 years of experience, David has extensive litigation and trial skills. David has been selected to the list of Northern California Super Lawyers in 2004, 2009-2010, and 2014 – 2017.  David received the prestigious BTI client service award in 2013 and in 2014, he was named as ITL's top class action lawyer for wage and hour class actions in California. David has prosecuted and defended numerous class action cases with substantial monetary claims across the country.  He frequently defends corporations in complex toxic tort matters, overseeing teams of attorneys on all aspects of the defense. David has obtained a number of highly favorable defense verdicts.  David's employment expertise encompasses wage and hour lawsuits, including class actions, collective actions, and representative actions, as well as claims arising under the Fair Employment and Housing Act.  In addition, David defends employers in administrative agency actions and provides advice on a broad range of employment issues. In addition to his litigation practice, David has mediated disputes, acted as an expert, and has spoken at various seminars.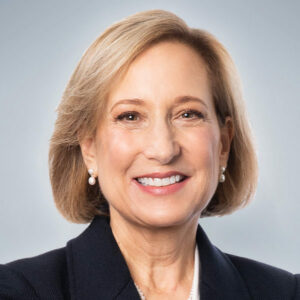 Judge Suzanne H. Segal (Ret.)
Mediator
Signature Resolution
After 18 years as a United States Magistrate Judge with the Central District of California, including four years as the Chief Magistrate Judge, Hon. Suzanne H. Segal (Ret.) joins Signature Resolution as a mediator and arbitrator. During her tenure on the federal bench, Judge Segal presided over numerous trials, evidentiary hearings, motions and discovery conferences involving diverse subject matter. Judge Segal served as the settlement judge in hundreds of cases, settling business and insurance disputes, patent, trademark and copyright actions, and employment, civil rights, and tort cases.  Judge Segal has also handled a wide range of motions and settlements arising out of class actions, particularly in the wage and hour context. Judge Segal has broad experience in securities litigation, including matters brought by private investors and the SEC.  In addition, Judge Segal has extensive experience in matters involving the False Claims Act and related actions involving the healthcare industry. Before her appointment to the bench, Judge Segal served as an Assistant United States Attorney in the Civil Division of the Los Angeles U.S. Attorney's Office for 12 years. As an AUSA, Judge Segal handled a variety of cases, including contract, employment, civil rights, Medicare reimbursement and tort claims. She also brought consumer and civil rights actions on behalf of the Department of Justice. From 1999 to 2002, she served as the Chief of Civil Appeals for the U.S. Attorney's Office. Prior to serving in the U.S. Attorney's Office, Judge Segal was a civil litigator at Dewey, Ballantine and Adams, Duque and Hazeltine. Judge Segal has also served as a lecturer in Law at UCLA School of Law and Loyola Law School.