Western Alliance Bank presents
a CLE-Eligible Webinar
Rule 23 Amendments
How They Are Reshaping Class Action Settlements
& What Attorneys Need to Know
Recorded | October 7, 2020
2ET | 1CT | 12MT | 11PT
The 2018 amendments to Federal Rule of Civil Procedure 23 have altered nearly every part of the class action settlement process, from preliminary approval to class notifications.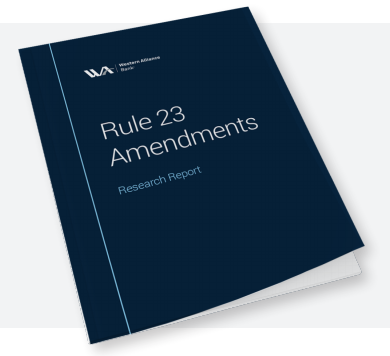 In a brand new research report from Western Alliance Bank Settlement Services, attorneys, judges and claims administrators resoundingly agreed that, overall, the amendments had made the class action litigation process more consistent, efficient and effective, with superior outcomes for class members and defendants.
And yet challenges remain. Survey respondents agreed that some serial, professional objectors have made settlement approval more challenging. And because the amendments impact various aspects of the settlement process, they can present challenges for uninformed or ill-equipped attorneys, who must adjust to the robust provisions, which have in many ways improved and stream-lined the settlement process. Our panel of veteran class action professionals will share their experiences and insights on the Rule 23 amendments, providing a roadmap for navigating the evolving class action settlement landscape.
Join our dynamic panel of legal experts as they guide you through the 2018 amendments to Rule 23 and how they impact class action settlements and the approval process.
What they will discuss:
The preliminary approval process: how the amendments require parties to address flaws and disagreements in settlement proposals earlier than before.
Core factors: understanding the amendments' four factors for judges to consider when evaluating settlement agreements.
Electronic notice: what initial experiences tell us about the pros and cons of providing notice by email and other electronic means.
Objectors: while the Rule 23 amendments have received primarily positive reviews, many attorneys feel that objectors remain a problem.
How COVID-19 has impacted the settlement process – from negotiation to notice to objectors – and the Rule 23 amendments.
Registration includes recording, materials, answers to your questions, & CLE credit. Sign me up!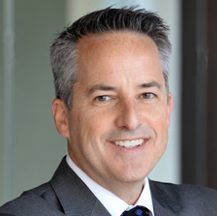 Darren Cottriel
Partner
JonesDay
Darren Cottriel is a partner at Jones Day and the leader of the Firm's California class action practice. His practice focuses on defending clients across a broad range of industries in consumer class actions brought under state and federal consumer protection statutes, including California's Business & Professions Code Section 17200, Consumer Legal Remedies Act, Song-Beverly Consumer Warranty Act, Magnuson-Moss Warranty Act, and similar laws in other states.  Darren has a well-established record of obtaining dismissals with prejudice and defeating class certification, as well as negotiating class settlements which withstand judicial scrutiny at the trial and appellate court levels.  His recent matters include lead defense counsel in putative class actions involving consumer products, residential home sales and financing, senior living communities, financial services, and text messaging.  His defense work is nationally recognized and he is rated as one of the top consumer class action lawyers in the country.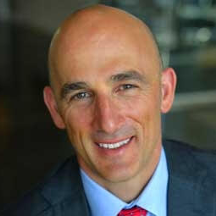 Tom Loeser
Partner
Hagens Berman Sobol Shapiro LLP
Tom Loeser is an accomplished trial attorney who has been involved in consumer fraud cases that have returned billions of dollars to millions of consumers and more than $100 million to the government. Tom's practice involves highly complex matters involving computing and software, and matters where both civil and criminal investigations are involved. Working with Hagens Berman's managing partner, Steve Berman, Tom helped lead the firm's work in In re: Volkswagen "Clean Diesel" Marketing, Sales Practices, and Products Liability Litigation in which Steve was a member of the Plaintiffs' Steering Committee, and the firm represented both defrauded consumers and defrauded dealers.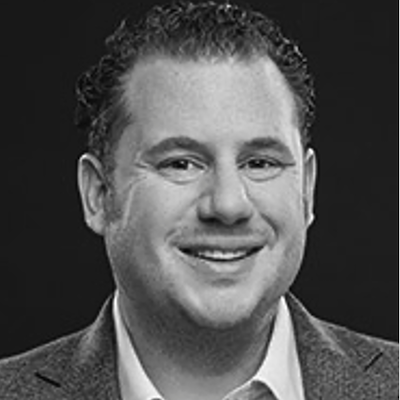 Steven Weisbrot
Partner & Chief Innovation Officer
Angeion Group
Steven is a nationally-recognized class action notice expert and one of the premier thought leaders in the class action administration industry. He has authored numerous articles in national legal publications on such diverse topics as media notice programs, using digital media to notify class members, class action claims administration and proper claim form design. Largely accepted as the leading proponent for the use of digital and social media in the class action notification industry, Steven has consulted with and advised some of the largest corporations in the country on their class action notification needs. He has also lectured extensively to many of the largest law firms in the world, as well as hedge fund managers, bar associations and in-house counsel on class action notice and claims procedures.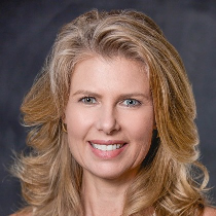 Ariana J. Tadler
Founder & Managing Partner
Tadler Law LLP
Ariana J. Tadler is the founding partner of Tadler Law LLP, one of only a handful of women-owned and -led plaintiffs' law firms in the country advocating for consumers and investors against corporate fraud and abuse. With 26+ years' experience litigating and managing securities, consumer and data breach class actions and complex litigation, Ariana is considered one of the top leading women litigators in the country and is well-known as a fierce advocate for her clients. Described by Chambers USA as one who "passionately defends her clients' interests to the greatest extent possible," Ariana litigates large, complex, high profile cases, with unique legal and technological acumen and case management skills.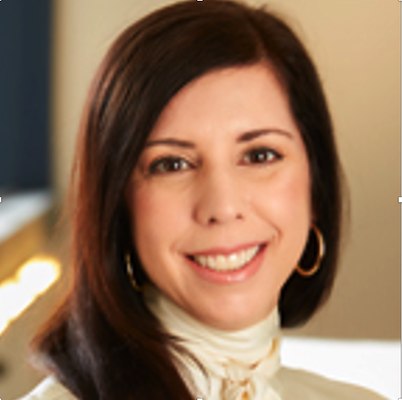 Moderator
Francesca Castagnola
Senior Managing Director
Western Alliance Bank
Francesca C. Castagnola is senior managing director of Western Alliance Bank's Settlement Services National Specialty Banking Group. A 30-year banking veteran, Francesca was a founding officer of the Bank's San Diego Division. Her portfolio includes law firms, claims administrators and related legal services companies. She has extensive expertise in both simple and complex escrow and fiduciary banking services. Through the Settlement Services Group, she focuses on the entire life cycle of large legal settlements, from escrow through distribution and residual balances for class action, mass-tort and bankruptcy cases. Francesca has managed the banking aspects of hundreds of Qualified Settlement Funds since 2003.