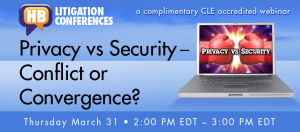 Privacy vs. Security – Conflict or Convergence? 
Thursday March 31, 2 p.m. E.D.T.
2:00 PM ET – 3:00 PM ET


Complimentary






While the dispute between Apple and the FBI has raised the debate over privacy vs. security to the national level, the fact is that more than 112 million health records were breached in 2015. There is little disagreement that you can't have privacy without security, but can you have security without sacrificing some privacy?
This webinar will explore the complex dynamic between privacy and security for organizations, individuals and law enforcement as it plays out in the real world with privacy, security and law enforcement professionals who grapple with these issues on the job every day. A few of the topics that will be covered, include:
•    What are the real-world data security & privacy scenarios encountered by law enforcement today?
•    What are some of the real impact on people whose healthcare data was compromised?
•    Is the preservation of our privacy truly in conflict with the requirements of digital security?
•    How does the privacy vs. security dynamic affect the healthcare industry?
•    What legal, technical and operational controls really work to help individuals and organizations to safeguard data?
•    How does public willingness to give away private information, and the sense of inevitability around the loss of our privacy change the discourse and the facts on the ground?
---
Panelists:
Mark Eggleston
Vice President
Chief Information Security Officer and Privacy Officer
Health Partners Plans
Todd Ruback
Chief Privacy Officer & VP of Legal Affairs
Ghostery
Ben Stone
Supervisory Special Agent
Federal Bureau of Investigation

Moderator
Ben Goodman, President, 4A Security & Compliance