Chair


Dennis Estis

| Partner | Greenbaum Rowe Smith & Davis LLP
Mr. Estis concentrates his practices on complex commercial litigation, with a particular focus on construction law, condominium and community association law, public entity law and alternative dispute resolution. His practice also encompasses real estate and business disputes and general equity matters. He serves as counsel to numerous developers, condominiums and cooperatives, New Jersey municipalities, and one of the major sewerage authorities in the state.  He has served as an arbitrator and mediator for numerous private and public entities, and has participated as both an advocate and as a neutral in hundreds of mediation proceedings.  He is an American Arbitration Association trained mediator and arbitrator and sits on the AAA's national panel.  Mr. Estis has played a prominent role in a number of high-visibility cases.  He was lead public entity counsel in one of the largest landfill cases ever conducted in New Jersey. He served as lead counsel in New Jersey for more than 100 developers involved in numerous law suits in connection with defects related to fire retardant treated (FRT) plywood,  helping draft New Jersey's FRT Plywood regulations after spearheading successful efforts to overturn the then existing FRT regulations in order to obtain greater funding for the replacement of FRT plywood.  Mr. Estis has presented and moderated programs on a broad range of topics, including alternate dispute resolution, trial practice, training and handling of experts, condominium and community association law, construction law, and real estate law.  He has addressed various groups including the American Bar Association, the New Jersey State Bar Association, the New Jersey Institute for Continuing Legal Education, the Litigation Counsel of America and the Community Associations Institute.
Program President


Marc

Goldberg | Sales Executive | Veritext Legal Solutions
Mr. Goldberg has been in the legal industry his whole life beginning with Doerner & Goldberg where he started out working in the business, helping to manage the business. He was a court stenographer for 12 years taking depositions with many types of litigation. Mr. Goldberg sold his business in 2007 to Veritext Legal Solutions where he is now a Sales Executive in charge of handling clients' needs, handling large cases and working with corporations in reducing their litigation costs. He is also a founding partner in Paradocs, Inc, which specializes in hyperlinked briefs, trial and graphic presentations.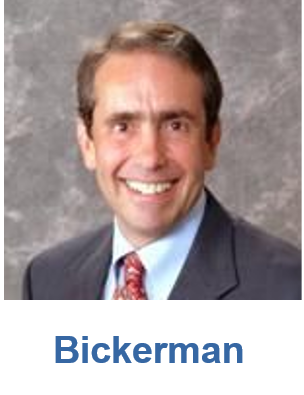 John Bickerman | Principal | Bickerman Dispute Resolution
Mr. Bickerman is an internationally recognized neutral, specializing in complex, multi-party insurance coverage and general commercial disputes.  In the last twenty years, he logged over 25,000 hours and resolved more than three billion dollars in claims in more than thirty-five states.  He has been retained by dozens of Fortune 500 companies and all of the major American insurers.  He also has special expertise in the Bermuda insurance market. He has facilitated the resolution of major natural resource and environmental disputes between the Federal government, tribes and states, including four major water allocation or water diversion conflicts throughout the country. He presently teaches negotiation and mediation courses at Cornell University has been an Adjunct Professor at Georgetown University Law Center.  Mr. Bickerman has repeatedly been selected by his peers as one of the Best Lawyers in America, regarded as a definitive guide to legal excellence in the United States and has also been included in the Superlawyers listing for Washington, DC since the inception of this listing.  He is a past Chair of the American Bar Association's, Section on Dispute Resolution.  He has BS and MS degrees in economics from Cornell University and is a magna cum laude graduate of Georgetown University Law Center.  He clerked for Judge William B. Bryant on the United States District Court for the District of Columbia.
Judge Barbara Byrd Wecker retired from the bench in 2006, after serving on the Superior Court of New Jersey for more than 20 years.  Her service included more than 10 years as a trial judge in the Family, Criminal, and Civil Divisions, and 10 years on the Appellate Division, where she authored more than 100 published opinions and over 1,000 unpublished opinions.  She has joined Greenberg Dauber Epstein & Tucker as Of Counsel and is the Chair of the Firm's Alternative Dispute Resolution Department.  She is a mediator qualified by the New Jersey Supreme Court under Rule 1:40 and has become recognized for her skill in mediating a wide range of disputes.  She is an arbitrator on the American Arbitration Association's commercial panel of neutrals and is included on its large complex case panel, roles for which her judicial experience is a significant asset.  While on the bench, Ms. Wecker served by appointment of the Supreme Court on its Civil Practice, Family Practice, and Criminal Practice Committees and was a founding member and second president of the Willard C. Heckel American Inn of Court, training young lawyers in practice skills and professionalism.  Before becoming a Superior Court judge, Ms. Wecker served on the New Jersey State Board of Bar Examiners, the District XII Ethics Committee, and on the original Complementary Dispute Resolution Committee.  She was a trustee of Legal Services of New Jersey, the New Jersey State Bar Foundation, and the Union County Bar Association, as well as the first President of Women Lawyers in Union County.  Judge Wecker is a Fellow of the College of Commercial Arbitrators.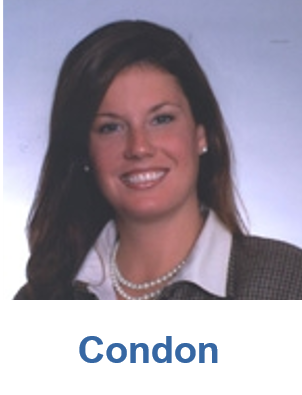 Ms. Condon joined the Firm in September 2000.   She is admitted to practice in New Jersey and New York.  Ms. Condon concentrates her practice in civil litigation and appeals in state and federal court with an emphasis in commercial and business litigation, construction and public contracts.  She has represented clients in a broad range of business and corporate matters including contract disputes, collection actions, distributorship agreements, oppressed minority shareholder actions, specific performance and chancery matters.  She also regularly represents property owners as well as contractors involved in residential, condominium, commercial, industrial, school and public projects. She handles all aspects of construction law, including bid disputes, project management, and delay and defect claims.  She has co-authored articles on legal issues involved with public bidding, construction defects and community associations.   Ms. Condon received a B.A. in Political Science and Business Administration from Seton Hall University in 1996 and a J.D. from New York Law School in 1999.  Prior to joining the Firm, Ms. Condon served as a judicial law clerk to the Honorable Reginald Stanton, Assignment Judge of the Superior Court of New Jersey for the Morris and Sussex vicinages.   In addition, Ms. Condon is a New Jersey Court Approved Mediator and a Barrister with the Seton Hall Law School American Inn of Court.  She is also a Member of the New Jersey State Bar Association Civil Practice, Construction and Public Contract Law Sections; the New York State Bar Association; and the Essex and Morris County Bar Associations, Litigation Sections.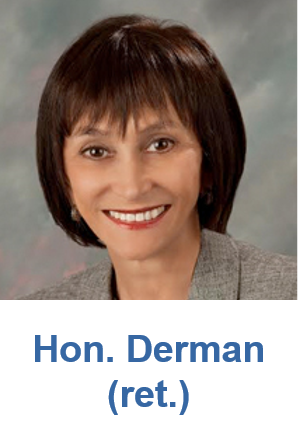 Judge Harriet Derman (Retired) concentrates her practice in mediating and arbitrating chancery and probate matters, as well as personal injury, commercial, construction, fiduciary, malpractice, contract and employment litigation matters, and providing special master services. She is experienced in partnership and limited liability law, shareholder oppression, securities, taxation, employee benefits, restrictive covenants, trade secrets, foreclosures, corporate governance, planned real estate development, estate planning and estate administration.  Judge Derman served as the Presiding Chancery Judge in Somerset, Warren and Hunterdon Counties from 2006-2009 and was the Probate Judge in Somerset County. She also served as Presiding Judge, Civil Division, in Somerset, Warren and Hunterdon Counties.  Judge Derman was Chief Counsel to Governor Christine Todd Whitman in 1996 and Chief of Staff to the Governor from 1996 to1998. Prior to that, she served as Commissioner of the New Jersey Department of Community Affairs. She was a member of the New Jersey General Assembly from 1992 to1994. She also served as President of the Middlesex County Bar Association.
Dennis Drasco | Partner | Lum Drasco & Positan
Mr. Drasco is a Certified Civil Trial Attorney in New Jersey and is listed in The Best Lawyers in America, New Jersey Super Lawyers(Top 100), (Top 10 in 2011), Chambers USA – America's leading lawyers in Business and Who's Who in American Law. He is a Fellow of the American College of Trial Lawyers, the International Academy of Trial Lawyers and the Litigation Counsel of America. He is a New Jersey Court Approved Mediator and Federal Court Mediator.  Mr. Drasco specializes in the trial of complex commercial, construction, condemnation, insurance, medical malpractice and legal malpractice cases in Federal and State Court in New York and New Jersey and the mediation and arbitration of those cases in ADR forums.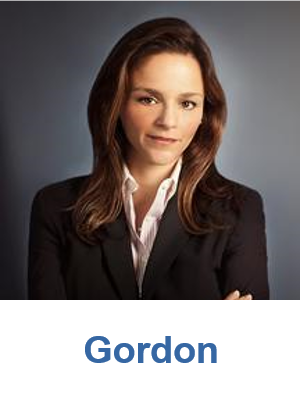 Ms. Gordon defends clients who are facing criminal charges.  She also represents businesses and individuals in civil commercial disputes.  Ms. Gordon serves on the Board of Directors for the National Association of Criminal Defense Lawyers, and is Vice Chair of the Construction Section of the New Jersey State Bar Association.  Ms. Gordon is also Chair of the Legal Redress and Criminal Justice Committees of the Southern Burlington County branch of the NAACP.  In her criminal defense practice, Ms. Gordon represents clients at all stages of litigation, from negotiating pleas, downgrades, and dismissals prior to indictment, all the way through to trial.  She has defended clients charged with all range of criminal matters – from minor infractions, to violent crimes, to white collar fraud.  Ms. Gordon's criminal defense background sets her apart from most commercial litigators in dealing with allegations of business and procurement fraud in civil disputes.  She has represented numerous businesses and individuals in connection with government investigations for false claims.  M. Gordon's civil practice focuses on construction litigation. She regularly represents businesses before courts throughout New Jersey, Pennsylvania, and in the United States Court of Federal Claims. Ms. Gordon has represented owners, developers, sureties and all tiers of contractors in a range of disputes, including construction defect claims, damages for delay, differing site conditions, professional negligence, bid protests and injunctions.  Ms. Gordon regularly speaks on construction issues throughout New Jersey.
Sheryl Goski | Law Offices of Sheryl Mintz Goski, P.A.
Ms. Goski is an experienced professional mediator of all business and personal dispute and a  practitioner of alternative dispute resolution, insurance and construction law, as recognized by her peers.  For more than 30 years, protecting her clients' best interests and securing a favorable outcome in their cases have been Ms. Goski's ultimate goals. She is dedicated to resolving her clients' cases in the most cost-efficient, effective manner and strives to give all clients the attention and care they need. When necessary, Ms. Goski assertively stand up for her clients' rights and zealously advocates for them in the courtroom. Ms. Goski has extensive trial experience and has brought several matters to successful verdict.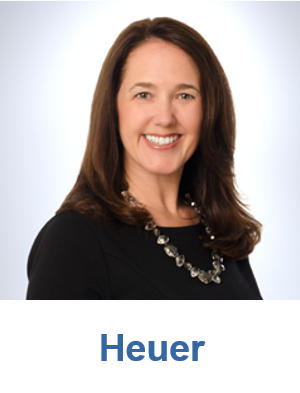 Kelly Heuer | Managing Director | Navigant
Ms. Heuer is a Managing Director in Navigant's global Construction practice. She has provided professional consulting services to owners, contractors, architects, sureties and their counsel on a wide variety of construction and manufacturing projects for the past 25 years.  Her experience has been focused in analyzing project schedule delays and resulting cost overruns. Ms. Heuer has analyzed both as-planned and as-built project schedules and performed critical path schedule delay analyses for large construction and manufacturing projects. She has also analyzed and prepared claims for loss of productivity, increased contract quantities, and indirect cost overruns. She has issued expert reports and provided expert testimony. Ms. Heuer's experience has included airports, aircraft retrofits, bridges and highways, correctional and educational facilities, courthouses, hospitals, power plants, and railroads, among others, throughout North America and Europe.
Joseph J. Hocking | Law Offices of Joseph J. Hocking
Mr. Hocking's practice in construction and public bidding law began as a staff attorney for a large public housing authority where he gained trial and appellate experience not routinely afforded to attorneys early in their careers. He won a precedent setting appeal in the centralized fire retardant plywood litigation which established the right of public entities to prosecute claims under the Consumer Fraud Act.  Mr. Hocking is extremely knowledgeable in the state's lien laws (Municipal Mechanics' and Construction) and the Bond Act. He has extensive experience litigating bid protests in the trial and appellate courts. Further, Mr. Hocking has represented construction clients in administrative proceedings before the New Jersey Department of Labor and Office of Administrative Law in matters arising under the Prevailing Wage Law and the Public Works Contractor Registration Act. He has also represented clients in matters before the Occupational Safety & Health Administration (OSHA) and the New York City Environmental Control Board.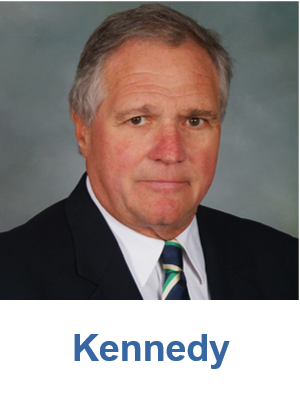 Mr. Kennedy specializes in complex civil litigation and mediation, including construction defect and director and officer liability litigation. He is a Certified Civil Trial Attorney by the New Jersey Supreme Court, a Fellow of the American College of Civil Trial Mediators and a member of Litigation Counsel of America.  One of his areas of concentration in construction law is representing condominium associations and planned unit developments. He has represented these Associations in all aspects including as general counsel, transition and as a trial attorney since 1975.  Mr. Kennedy is a member of the New Jersey Bar. He received his Bachelor of Science degree from Villanova University in 1964 and his Juris Doctor degree from Seton Hall University School of Law in 1968. Mr. Kennedy is a member of the U.S. Supreme Court, the New Jersey State Bar, including the Federal Courts of New Jersey. He has been a trial attorney for his entire career and has been recognized by the New Jersey Supreme Court as a Certified Civil Trial Attorney since 1982, which was the charter year for trial certification. He is a trained mediator by Harvard Law School and N.J.I.C.L.E.
Mr. McBride has an extensive practice representing owners, developers, contractors and vendors in all aspects of the real estate development and construction business. Among his more notable projects are the large scale development of data centers, industrial tract and office developments, residential apartment and condominium projects, and shopping center developments. From 2010 through 2015, Mr. McBride served as the firm's Managing Partner and helped grow the firm by more than 20 percent.  Mr. McBride's construction projects include the resolution of various disputes by way of negotiation, trial, or arbitration on casino projects in Atlantic City (Tropicana and the Borgata); office buildings in Newark (Gateway 3 and 4); and Chicago (Prudential Centers 1 and 2); power plants in India and China; a $250 million polypropylene plant in Linden, New Jersey; Dow Jones' headquarters in Princeton, New Jersey; large residential and redevelopment projects along the Hudson River and in Queens and Brooklyn for Toll Brothers; and a large shopping center development in the Rockefeller Economic Trade Zone in Mount Olive, New Jersey. Mr. McBride has recently resolved a complicated dispute for Foster Wheeler regarding a termination for convenience on a large power plant project in Louisiana.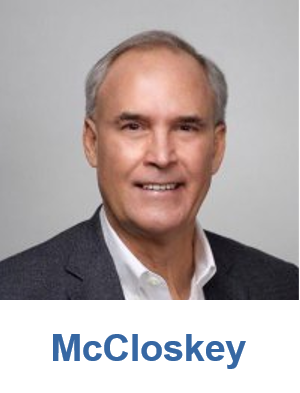 Mr. McCloskey has been in the active private practice of law for 32 years.  He was admitted to the Bar of the State of New Jersey and to the United States District Court for the District of New Jersey on December 15, 1983, and to the United States Court of Appeals for The Third Circuit on July 3, 1995. He obtained his undergraduate degree from Seton Hall University in South Orange, New Jersey in 1980 with a major in Political Science, and minors in Accounting and Legal History. He obtained his Juris Doctorate degree from Seton Hall University School of Law in Newark, New Jersey in 1983.  Throughout his 32 years in private practice Mr. McCloskey has been an accomplished commercial litigator and trial lawyer in the New Jersey State and Federal Court systems (and in other states via pro hac vice admissions). He has extensive litigation and transactional experience in real estate development, design, building and construction projects (residential, commercial, industrial, resort, and redevelopment). He has represented owners, banks, builder/developers, redevelopers, Fortune 500 companies, utilities, utility contractors, design professionals (architects and engineers), physicians and physician groups, accountants, lawyers, entertainers and entertainment companies in business formations and corporate counseling; financing, lender liability litigation; individual and corporate contracting; commercial transactions and contract disputes; product liability claims and litigation; trade name, trademark, service mark and copyright infringement litigation; condemnation counseling and litigation; residential, commercial, industrial, redevelopment and resort development; construction contracting, development of design professional and consultant agreements, contract documents, project delivery documents, and construction phase contract administration and counseling in a variety of building and construction applications; construction defect litigation; insurance coverage litigation; land use, zoning/planning and redevelopment law and related litigation; general aviation and related land use issues; fidelity and surety bond claims; all types of related corporate, partnership and business litigation, trials (jury and non-jury), appeals and appellate advocacy, arbitrations, mediations and alternate dispute resolution.
Bruce Meller | Partner | Peckar & Abramson, P.C.
Mr. Meller has been a partner at Peckar & Abramson since 1979. He has been described by The Legal 500 : United States as "exceptional, with strong trial and arbitration experience" and "the epitome of the construction litigator, who understands a company's needs and goes out to get results."  Mr. Meller has represented contractors throughout the United States on virtually every type of construction project, including high-rise buildings, shopping malls, museums, wastewater treatment and power plants, hospitals, garages, institutional buildings, stadiums, laboratories, highways, bridges, tunnels, pipelines and light rail systems.  He has been responsible for many of Peckar & Abramson's most significant cases, as well as the negotiation of complex contractual relationships and the drafting of standard forms of agreement, which are used on a national basis. Mr. Meller was lead counsel in an arbitration involving claims in excess of $130 million arising out of building and civil construction work for a train system in the Commonwealth of Puerto Rico, which lasted 84 hearing days. He was lead trial counsel and negotiated a $59 million dollar settlement on behalf of a design-build contractor with the Puerto Rico Electric Power Authority. Another matter on behalf of a construction manager involved claims in excess of $60 million, which lasted more than 75 hearing days. An engineering, procurement and construction (EPC) matter resolved at trial for sums in excess of $100 million. Many of his jury trials have lasted over one month and up to four months in length, resulting in numerous multimillion-dollar verdicts. Mr. Meller's cases have resulted in more than a dozen published decisions. He has also been admitted to practice pro hac vice throughout the United States and in Puerto Rico.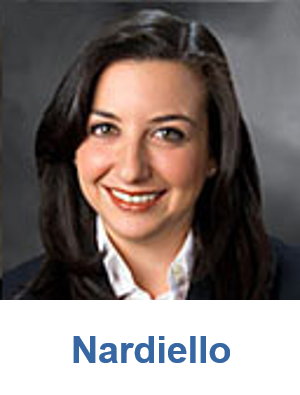 Ms. Nardiello protects the rights of design professionals, contractors, owners, developers and other members of the industry in litigation. An active litigator, Ms. Nardiello focuses her practice on disputes involving construction, contract and environmental/energy laws, managing cases from inception to trial. She represents design professionals, contractors and construction managers in both commercial litigation and transactional matters — winning dismissals, mitigating liability, and preserving reputations. She also negotiates contracts for high-profile construction projects. In addition, she advocates for design professionals in complex intellectual property disputes.  Ms. Nardiello is the Chair of the Design Division of the American Bar Association Forum on Construction Law and a Board of Directors Member of Commercial Real Estate Women of New York (CREW). Her professional accolades include being named a New York Metro Super Lawyer in 2014 and 2013, after being named a New York Super Lawyers Rising Star in 2012 and 2011. In 2013, Engineering News-Record (ENR) New York named her to its "Top 20 Under 40" list. She was also named a Fellow of the American Bar Association.
Steven Nudelman | Partner | Greenbaum Rowe Smith & Davis, LLP
Mr. Nudelman concentrates his practice in construction law and the representation of members of the construction industry across a broad spectrum of matters.  His clients include owners, contractors, design professionals, subcontractors and suppliers involved in public and private construction projects throughout New Jersey.  He also represents community associations, unit owners and developers in lawsuits involving construction defects, budgeting and financing issues, and condominium governance.  Mr. Nudelman provides counsel on a variety of business disputes, including claims for breach of contract, negligence and professional malpractice, surety bond claims and Consumer Fraud Act violations. He works with clients in preparing claims for construction liens, condominium liens and municipal mechanic's liens, ultimately leading to the commencement of the appropriate foreclosure action if necessary.  Mr. Nudelman has represented clients who receive code violations lodged by enforcement officials under the New Jersey Uniform Construction Code Act. He defends clients in these proceedings in Municipal Court, the Construction Board of Appeals and/or the Office of Administrative Law.  He has also appeared on behalf of clients in state, federal and appellate courts and in local and international construction and commercial mediations and arbitrations.  Mr. Nudelman has experience in real estate litigation, with a particular focus on title defense.  He has represented owners and lenders in title insurance claims and has prosecuted and defended quiet title actions and cases involving trespass, easements, boundary disputes, adverse possession, equitable subrogation and title defects.  In addition to litigation and dispute resolution, Mr. Nudelman assists construction clients with contract negotiations, review and drafting, with an emphasis on efficiency and practical results.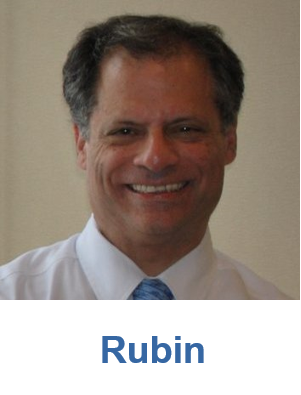 Gary Rubin | Partner | Schiff Hardin
Mr. Rubin is a seasoned construction law attorney who has practiced in New York City since 1976. He is a polished writer, a thoughtful strategist and a forceful advocate who helps owners and contractors with a variety of construction law needs. His experience in litigation and alternative dispute resolution has cemented his reputation as a leader and innovator who understands the complex landscape of construction law.  Mr. Rubin works vigorously and efficiently to resolve existing disputes and to position clients effectively through strong and capable contract drafting. He is steeped in the fine points of New York construction law and enjoys rolling up his sleeves to address clients' problems.  Mr. Rubin's experience runs the gamut from state and federal litigation to sophisticated mediation and arbitration proceedings, project controls and transactional work. He prides himself on "under the radar" planning and strategy, which benefit his clients while Gary advises quietly behind the scenes.   Since 1995, Mr. Rubin has been principal co-author of the "Construction Litigation" chapter of Commercial Litigation in New York State Courts, including three editions and annual updates. Thus, he literally "writes the book" on New York construction law, demonstrating again his command over the material as well as his absolute dedication to his clients and their goals.
 Richard Steen | Richard H. Steen, LLC Attorneys at Law
Mr. Steen founded the firm in 2000, and it continues to provide comprehensive management of complex commercial, construction and environmental disputes and innovative Alternative Dispute Resolution (ADR) solutions to conflict.  Mr. Steen has more than 30 years experience in ADR and the construction industry, including claims and disputes valued in the billions of dollar on public and private projects worldwide.  They are committed to finding effective and efficient solutions to your business disputes.  Mr. Steen has been selected and has served as an arbitrator or mediator in more than 1500 disputes in a wide variety of commercial, construction, professional liability and insurance matters.  With extensive experience in ADR process development and program design, and claims management, his firm can tailor an ADR solution to one dispute or to a caseload.
Gary Strong | Associate | Seiger Gfeller Laurie
Mr. Strong focuses his practice in the areas of construction litigation and professional malpractice defense including representation of design professionals, insurance brokers, real estate agents, lawyers, and accountants in the state and federal courts of New Jersey and New York. He has represented a variety of clients in the construction arena, including project owners, developers, design professionals, general and prime contractors, and specialty trade contractors, in all phases of construction and commercial litigation. Mr. Strong regularly counsels clients during the pre-construction and construction phases on issues including contract negotiations, risk management, and disputes. His representation extends to both public and private projects, and addresses payment claims, delay and impacts, acceleration, design issues, lien law, bond claims and surety issues, defective work, and wrongful termination. Mr. Strong has extensive experience in construction lien foreclosure actions involving the New Jersey Construction Lien Law and New Jersey's Municipal Mechanics' Lien Law.  Mr. Strong was recently appointed to serve on the Young Leadership Committee of the ACEC. He is editor of the Construction Law Newsletter of the Construction Law Section of the New Jersey State Bar.  He earned his Juris Doctorate from Rutgers Law School-Newark where he was a member of the Rutgers Law Record.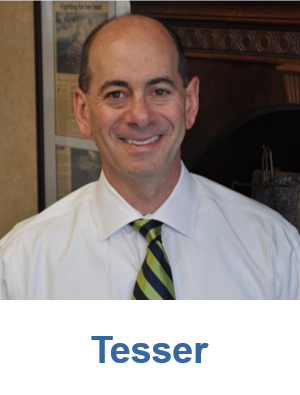 Lee Tesser | Partner | Tesser & Cohen
Mr. Tesser has garnered a reputation over the course of his career as one of New Jersey's leading litigators, lecturers and writers in the field of construction law. Mr. Tesser is well versed in real estate development issues, including contract negotiation, real estate transactions, financing, government approvals, representation of construction managers and contractors, and the construction process. Having litigated and arbitrated numerous construction cases, Mr. Tesser has a deep understanding of issues relating to construction work, delay claims, constructive acceleration, and defective and incomplete work. When surety and lien claims arise, Mr. Tesser is adept at handling the claims process, and serves as legal counsel for owners, sureties, contractors, subcontractors, architects, engineers and suppliers.  A published columnist and contributing author of State-by-State Analyses of Legal Issues Affecting Architects, Engineers, Contractors, and Owners – Author, State of New Jersey Treatise, Aspen Publishers, Inc., Mr. Tesser is in constant demand as a guest speaker by construction related organizations. A former chair of the New Jersey Bar Association, Construction Law Section, Mr. Tesser has been recognized on numerous occasions as being one of the most outstanding lawyers in the State.  In addition to being an advocate on behalf of his clients, Mr. Tesser is also an American Arbitration Association arbitrator for construction related cases.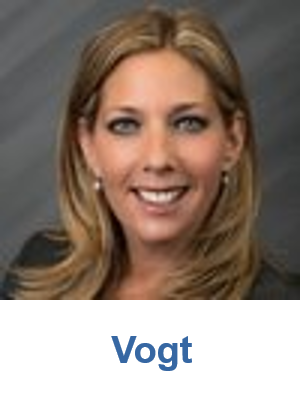 Ms. Vogt has 22 years of experience in construction law and concentrates on construction contracting and litigation. She regularly assists clients from the initial conception and project delivery planning stages through the negotiation of contracts and bid preparation and has experience resolving all types of construction disputes. She has litigated payment disputes, lien claims, claims of defective design and construction, complex delay claims, indemnity claims, personal injury claims, labor and employment issues, default and convenience terminations, and claims against surety bonds and construction insurance policies as well as creditor's rights and bankruptcy issues in the construction arena. Ms. Vogt has tried cases to state courts, administrative tribunals and arbitration panels.
Mr. Williams, is a partner in the Construction and Real Estate Law Practices at Peckar & Abramson. He focuses his practice on construction, real property and government relations issues and commercial litigation, including the representation of sureties.  Mr. Williams has tried numerous cases in New York State courts and has frequently represented clients in actions in the federal courts in both New York and New Jersey. In addition, Mr. Williams has conducted numerous seminars for both clients and governmental entities concerning the laws and regulations that govern the certification of Minority/Women and Disadvantaged Business Enterprises (M/W/DBE) and the computation of the participation of these businesses on projects to satisfy statutory and/or contractual utilization goals.  Prior to joining Peckar & Abramson, Mr. Williams served as vice president and general counsel of the New York City School Construction Authority, as well as counsel to the Borough President of Manhattan, general counsel to the New York Department of State and acting secretary of the State of New York. He has also served as assistant counsel to the NAACP Legal Defense and Educational Fund.  Mr. Williams is admitted to practice in the State of New York, the United States Court of Appeals for the Second Circuit and the United States District Courts for the Southern and Eastern Districts of New York. He received his bachelor of arts degree from Franklin & Marshall College and his law degree from Columbia University School of Law.