Wednesday, April 20
6 p.m. | Wine & Beer Reception
The Water Club Indoor Pool
Sponsored  by
---
Thursday, April 21
7:45 a.m. | Registration & Breakfast
---
9:00 a.m. | Opening Remarks
Richard H. Epstein Sills Cummis & Gross |  Walter "Pete" H. Swayze Segal McCambridge Singer & Mahoney Ltd. | Marc Goldberg Veritext Legal Solutions
---
9:15 a.m.
Are You and Your Insurer Connecting on Cyber Risk?
Cyber risks faced by businesses — lost data, network disruption, data breaches of personal and confidential information, fraudulently induced electronic funds transfers | Potential coverage under CGL policies | Potential coverage under crime and fidelity policies | Coverage under cyber insurance and related products | Current developments in technology and the evolving nature of cyber risks | Gray areas concerning war and terrorism
Kate Browne Swiss Re | Evan Fenaroli Philadelphia Insurance Companies | Laura Foggan Wiley Rein LLP | Vincent J. Vitkowsky  Seiger Gfeller Laurie LLP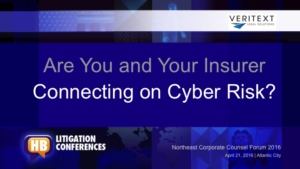 Additional Readings
---
10:15 a.m. | Session A | Studio 1 
eDiscovery: Federal Rules, Recent Rulings & Strategy
Overview of the changes to the Federal Rules of Civil Procedure | Update regarding recent e-discovery cases | Predictive coding and other strategies for reducing the cost of e-discovery
Brett M. Anders Jackson Lewis P.C. | Jeff Salling Complete Discovery Source | Martin T. Tully, Akerman LLP

10:15 a.m. | Session B | Salon B & C 
Emerging Risks of Today
Internet of Things (wearables, bio-technology, smart cars, telematics) |  Drones | EMV Chip/Pin | Legalized marijuana
Lance Albright Vice President, QBE North America | Megan Grossman Segal McCambridge Singer & Mahoney, Ltd. | Matthew Werbel Methfessel Werbel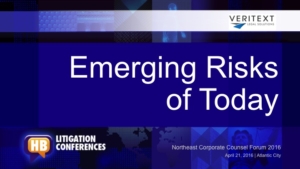 ---
11:15 a.m. | Break
---
11:30 a.m. | Session A | Salon B&C 
Internal Investigations: Reduce the Dread
New DOJ policy on individual accountability, cooperation and independent investigations | Cyber security/internal investigations – how will new NYSDFS  regulations impact financial institutions? | Whistleblowers | Tackling the cost of responding | Corporate ethics
Susan Frank Divers LRN Corp. |  Mike Delikat Orrick, Herrington & Sutcliffe LLP | Joseph Jaffe Chairman, Guidepost Solutions LLC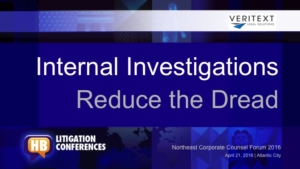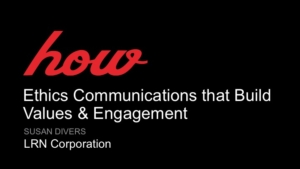 Additional Readings
11:30 a.m. | Session B | Studio 1 
Emerging Risks of Tomorrow
Climate change | Nanotechnology | Artificial intelligence
Brad Boucher iconectiv | Dawn Krigstin Ironshore Environmental | Pete Swayze Segal McCambridge Singer & Mahoney Ltd.  Stuart A. Panensky Traub Lieberman Straus & Shrewsberry LLP
---
12:30 p.m. | Networking Buffet Lunch
Sponsored by
---
1:45 p.m. | Session A | Salon B&C
Essential Strategies for Preparing for Trial
Spoliation of evidence – use of discovery demands to create negative inferences at trial. | Requests to admit – how to use them for trial and settlement purposes. | Focus groups – when and how to use them before trial. | The busy executive – preparing her for trial testimony. | Settlement opportunities – preparing for possible settlement just before and during trial.
Dr. Christina Marinakis, PhD Psychology, J.D., Director of Jury Research, Litigation Insights | William S. Ohlemeyer, Boies Schiller & Flexner LLP | Bruce Nagel Nagel Rice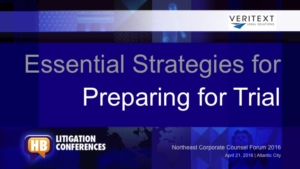 1:45 p.m. | Session B | Studio 1 
High-Profile Cases and How They Have Changed the D&O Game
Impact to corporate boards, directors and officers and the insurance industry | Effects on coverage, claims and underwriting | Areas of exposure for directors and officers | The reasoning behind landmark decisions and why they are important | The increased litigation companies face in the securities field | Fall-out from proposed mergers or acquisitions | Emerging claims of cybersecurity
Stephanie Resnick Fox Rothschild LLP | Kristin Kraeger Aon
Additional Readings
---
2:40 p.m.  |  Session A | Salon B&C 
Staying Ahead of the Latest Employment Risks
Practical steps through interactive dialogue over hypothetical scenarios | Resolving high-exposure employment claims in the most efficient manner | When bullying becomes harassment – how to prevent and curtail it | Employees' use of social media – ethical and legal considerations surrounding the increasingly blurred lines of personal/work use | Same-sex bathrooms | Reclassification of hourly/salaried workers, contractors | Fair Credit Reporting Act
Dominick Cirelli Deputy General Counsel, Coface North America Insurance Co. | Hon. John J. Hughes (ret.) JAMS, U.S. Magistrate Judge, District of New Jersey | Todd H. Girshon Jackson Lewis PC | Stefani C. Schwartz Schwartz, Simon, Edelstein & Celso LLC
2:40 p.m. | Session B | Studio 1 
Data Security Breach! Are You Prepared?
What is a "data security breach"? | Why do you need a response plan? Organizing your company or legal department to respond. Effective strategies for communicating with the media. Best practices for notifying consumers – particularly timing. | State statutory requirements. Regulatory (and quasi-regulatory) update. Regulatory enforcement actions and litigation: When to involve the U.S. Secret Service, FBI or other law enforcement. Effective strategies for communicating with the FTC, State AGs or other law enforcement
Kathleen Barnett Einhorn Genova Burns | Nicholas S. Goldin, Simpson Thacher
| Austin P. Berglas K2 Intelligence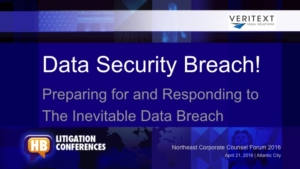 ---
3:25 p.m.  |  Break
Sponsored by
---
 3:45 p.m.
— Legal Ethics —
Steps to Maximizing Privilege Protection
When You Wear Many Hats
Don't let your roles as legal adviser, regulatory gatekeeper, and business adviser trip you up on privilege.
DO NOT assume every communication is privileged–know the parameters. | Real-world examples of what is NOT privileged. | No presumption that advice is legal in nature. | Separate business and legal documents and communications. | Prohibit outside dissemination of communications.
Stephen Wagner Cohen Tauber Spievack & Wagner P.C. | James A. Paone, II  Davison, Eastman & Muñoz PA | William Crosby Interpublic Group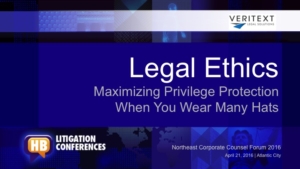 ---
4:45 p.m.  |  Adjourn
---
Thanks to our sponsors!