Don't forget to come early for a new half-day program — Mass Tort Claims Administration! Scroll down for info.
April 15, 2016
---
7:30 |  Registration and Breakfast
Sponsored by      
---
8:30 |  Obtaining a Fair and Impartial Jury: Important Procedural Trends in Jury De-Selection
• Standards and procedures for hardship excusals
• Benefits and challenges of using a supplemental juror questionnaire
• Maximizing the value of voir dire
• Techniques for obtaining cause challenges and rehabbing
• Strategies for exercising peremptory strikes

Christina Marinakis J.D. Psy.D, Senior Consultant, Litigation Insights (moderator)
Michael Brown Miles & Stockbridge P.C.
Beth Rose Sills Cummis & Gross P.C.
Douglas von Oiste The Karst & von Oiste Law Firm
Benjamin Darche Weitz & Luxenberg P.C.
Robert Mosier The Sanders Law Firm
---
9:15  |  Off-Label Use Warnings: FDA, Recent Precedents, Doctors and the First Amendment
• Current FDA rules and case law on off-label use
• Noteworthy off-label use cases from the past (criminal and civil)
• Interplay with medical malpractice standards
• Learned intermediary defense
• First Amendment rights of drug manufacturer
Brenda Fulmer Searcy Denney Scarola Barnhart & Shipley, P.A. (moderator)
Hadley Matarazzo Faraci Lange LLP
Patricia Lowry Squire Patton Boggs
Lori Leskin Kaye Scholer LLP
---
10:00 |  Break
---
10:30  |  Sufficient Proof of Injury in Multiple-Plaintiff Trials
Multi-plaintiff trials in mass tort litigation can raise several issues such as individual injuries and damages, the testimony of treating physicians and experts, jury instructions, and special verdict forms. This panel will explore these issues from the perspectives of a complex trial judge, as well as lawyers representing plaintiffs and defendants.

Brian Devine Seeger Salvas LLP (moderator)
Judge Mary Wiss Superior Court, San Francisco
Nina Gussack Pepper Hamilton LLP
Susan Sharko Drinker Biddle & Reath LLP
Khaldoun Baghdadi Walkup Melodia Kelly & Schoenberger
Richard Arsenault Neblett Beard & Arsenault
---
11:15  |  e-Discovery: FRCP, Cross-Border, Special Masters, Technology
Given the ever-rising volumes of data in today's interconnected world, one of the most critical legal tasks in any mass tort litigation is electronic discovery.  Preserving, collecting, searching, producing and reviewing such large quanta of information can make or break a case.  The advent of the new Federal Rules of Civil Procedure only add to the importance and complexity of electronic discovery to any case, especially those involving mass torts.  In this interactive panel discussion, you will hear directly from the experts on a panoply of electronic discovery issues, including:
Impact of new federal rules:  proportionality, cost-shifting, cost containment and sanctions
Cross-border and international discovery issues
The dos and don'ts of social media
Bring your own device pitfalls
The role of a special master and effective advocacy
The pros and cons of computer assisted and human review methods
How to recognize discovery gamesmanship and stop it cold
Choosing a vendor and appropriate due diligence
Jonathan Sablone Nixon Peabody LLP (moderator)
Robin Stewart Lathrop & Gage LLP
Honorable Richard A. Levie (ret.) JAMS
---
12:00  |  Lunch
Sponsored by  
---
1:00  |  Whistleblowers: Responding, Investigating, and Adjudicating
• The potential cost of ignoring or mishandling a whistleblower
• How to efficiently respond to an initial whistleblower complaint
• Preventing retaliation and who and when to notify
• How to scope an investigation
• Getting policies and procedures in place proactively
• Representing whistleblowers, to include verification, resolution, legal action considerations
• Adjudicating a whistleblower

Susan Frank Divers LRN Corporation (moderator)
Richard Grime Gibson Dunn & Crutcher LLP
Laura Kennedy SAIC
Neil Getnick Getnick & Getnick LLP
Sol Weiss Anapol Weiss
---
1:45  |  The Relationship Between Federal & State Courts and Counsel
• The spectrum of federal-state cooperation models
• The relationship of MDL leadership / state court leadership / plaintiff and defense considerations
• Federal and state coordination and discovery
• The role of the MDL and trial settings
• Settlement models and issues relating to closure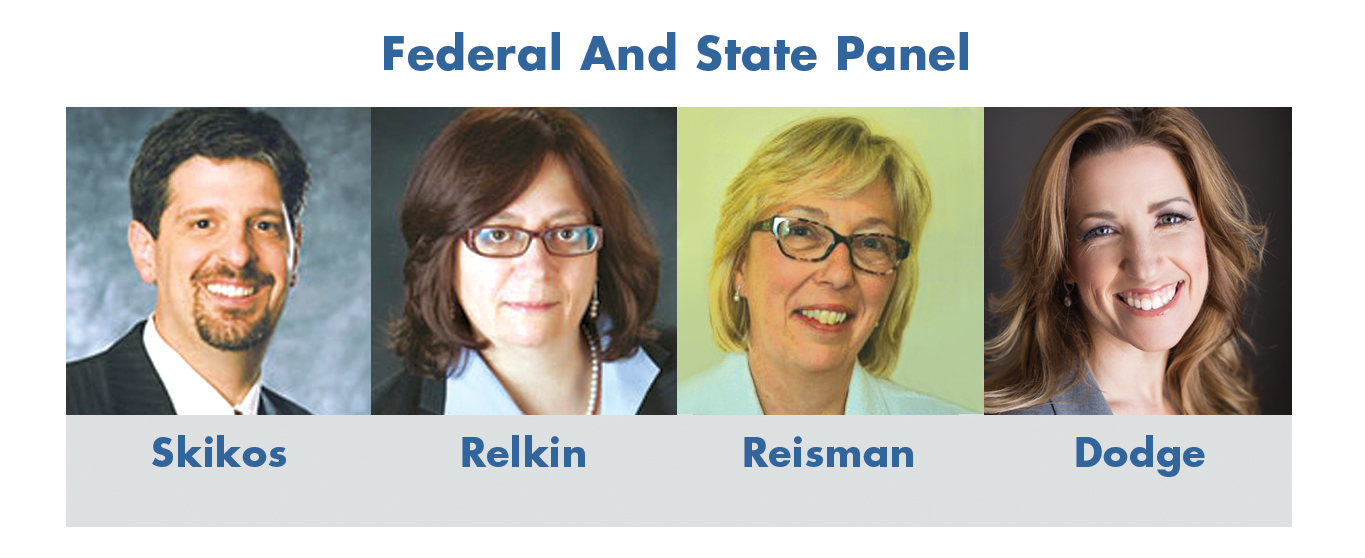 Steven Skikos Skikos
Ellen Relkin Weitz & Luxenberg P.C.
Ellen Reisman Reisman Karron Greene LLP
Professor Jaime Dodge Emory University
---
2:30 |  Break
---
3:00  |  Settling Strategies for MDLs: Getting Started, Setting Values and Overcoming Obstacles
• Effective strategies for MDL settlements
• Settlements by necessity
• Getting the process started
• Selection of Bellwether pool
• The framework for negotiations
• Establishing settlement values
• Obstacles to mass tort settlements

Cathy Yanni JAMS
Wendy Fleishman Lieff Cabraser LLP
Michael Tanenbaum Sedgwick LLP
Michael O'Donnell Wheeler Trig O'Donnell LLP
Henry G. Garrard, III Blasingame Burch Garrard Ashley P.C.
---
3:45  |  Settlement Finality: The Mechanics of Putting Things to Rest
---
• Common benefit funds
• Attorney fees liens
Glenn Zuckerman Weitz & Luxenberg P.C.
Ginger Susman President, Providio MediSolutions LLC
Honorable Marina Corodemus, ret. Corodemus & Corodemus LLC
Douglas Marvin Williams & Connolly LLP
Franklin Solomon Solomon Law Firm LLC
Brett Newman Lien Resolution Group
Bill Mulvey Garretson Resolution Group
---
4:30 |  Adjourn
---
Thanks also to these sponsors!



---
Come early and join us on April 14th for
an important add-on program to Judge Corodemus' event!
Mass Tort Claims Administration
Effectively Implementing the Resolution of
Complex Mass Torts, Class Actions & Bankruptcy Trusts
April 14, 2016
How can the resolution of massive litigation involving tens of thousands of claimants be effectively and fairly managed?  That is just one of the thorny questions our panel of experts, under Judge Corodemus' stewardship, will address during this invaluable and uniquely-focused event.
Featuring leading experts in claims administration, mass torts and lien resolution, this important half-day program will be co-lead by Brett Newman of Lien Resolution Group and Daniel Myer of Verus Claims Services LLC.
---
11:30  |  Registration and Lunch       
---
12:30 |  Welcome and Opening Remarks
---
12:45  |  TPA/IT Operations
Smart Systems Make Smart Administrators
Effective Settlement Administration Begins and Ends With:
Subject matter experts as part of the team
Well developed and designed technology
A settlement plan that is well defined
Morton Iversen, Verus Claims Services LLC
Mark Eveland, Verus Claims Services LLC
---
1:15  |  Reducing Risk and Improving Quality: Best Practices
Ensuring the Third Party Administrator Value Proposition
Independence, Quality Assurance, Comprehensive Audits
Matt Nissen, Verus Claims Services LLC
---
1:45 |  Break
---
2:00  |  Using Predictive Analytics to Model Settlements
Curating Quality Data
Designing Rational Compensation Models
Predicting Case Flows
Mark Eveland, Verus Claims Services LLC
---
2:30  |  Administration and Processes
Class Action Notice and Class Action Claims Management
Common Goals for Administering Any Type of Settlement
The Three C's of any Third Party Administrator: Communication, Coordination and Cooperation
Brett Newman, The Lien Resolution Group
Dan Myer, Verus Claims Services LLC
Lauren McGeever, Epiq Systems
---
3:15  |  Break
---
3:30  |  Lien Resolution
Brett Newman, The Lien Resolution Group
Franklin Solomon, The Solomon Law Group
---
4:15 |  Private Lien Programs
Ginger Susman, Providio MediSolutions, LLC
---
5:00 |  Adjourn
---
Register today for one or both events!