HB, Fastcase Partner to Publish Law Street Media's Journal of Emerging Issues in  Litigation 
FOR IMMEDIATE RELEASE
March 19, 2020
Media Contact:
Jennifer Brand Ransom | Fastcase Media Relations
202.731.2114 | jbransom@brandsolutionsgroup.com
Washington, DC (March 13, 2020) – Legal publisher Fastcase and partner HB Litigation Conferences today announced a journal partnership to provide firms with expert insights into emerging litigation. The new Law Street Media's Journal of Emerging Litigation will be led by Managing Director and Founder of HB Litigation Conferences Tom Hagy, former Publisher and Managing Editor of LexisNexis Mealey's Litigation Reports.
"There are many new areas of litigation emerging from vaping to mandatory arbitration, privacy breaches to drones and autonomous vehicles and our Docket Alarm service is in such a unique position to track the filing data. We wanted to focus on new types of suits and the experts who are leading the charge, before litigation completely unfolds. To do so, we needed a strong journalist and leader who could make sense of these new types of lawsuits and pick the best of the best to cover. Tom Hagy was the first and best choice for us," noted Steve Errick, COO of Fastcase.
Publishing its first issue this summer, the focus of the journal in many ways will parallel Hagy's career-long focus on emerging areas of litigation, supported with the valuable filing data from Docket Alarm.
"Emerging Litigation has always been more word of mouth until the first few verdicts come in and then the race is on. When Law Street Media Editor-in-Chief David Nayer told me Juul lawsuits were averaging four filings a month in April 2019 and 240 a month in October, it underscored the predictive value of early activity among litigators in general. Working with the Law Street Media and Docket Alarm teams as they count and track emerging litigation at the filing level gives us a preview and fantastic ability to jump ahead and cover litigation as it unfolds – now that's emerging litigation data!"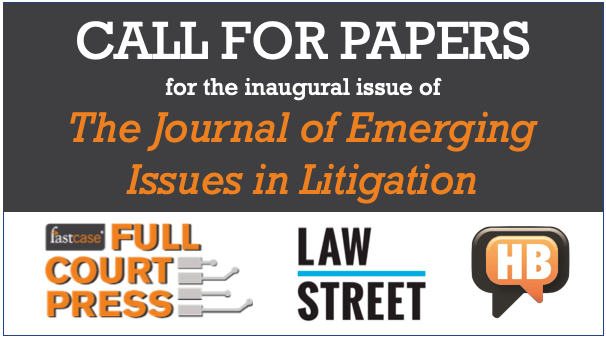 "I am excited to be working with such an innovative, growing company like Fastcase," Hagy said. "I have a passion for emerging areas of litigation and working with top lawyers from around the country to cover them, evaluate them, and share valuable insights with professionals in the legal and business communities."
Law Street Media's Emerging Litigation Law Journal will be the third law journal published by the expanding Fastcase imprint Full Court Press, the publishing arm of Fastcase. Like Full Court Press's first two journals, RAIL: The Journal of Robotics, Artificial Intelligence & Law and AILA's Immigration Law Journal, the new Journal of Emerging Litigation will be available in several mediums: in print, as an eBook, and within the Fastcase legal research application as part of an enhanced Law Street Media subscription.
Law Street Media Editor-in-Chief David Nayer envisions the Journal as a continuation of Law Street Media as a must have resource for firms embracing new and emerging litigation. "As exciting as it is to cover breaking litigation, we wanted to connect Law Street Media with Full Court Press, so the legal information practice continuum of breaking news to research and practice works easily and seamlessly between news and research."
As part of the launch, Hagy will form an Editorial Board of advisors with respective industry litigation expertise, and work closely with the Docket Alarm and Law Street Media team to cover the most urgent new litigation trends of 2020 and beyond.
About Fastcase
Fastcase is a leading legal publisher that democratizes the law, making it more accessible to more people. Fastcase is a comprehensive research suite of primary law, treatises, legal blogs, analytics, workflow tools, and legal news. Founded in 1999, the service has more than 900,000 subscribers from around the world. Fastcase is an American company based in Washington, D.C. For more information, follow Fastcase on Twitter at @Fastcase or visit fastcase.com.
About HB Litigation Conferences and Hagy
Tom Hagy founded HB Litigation Conferences LLC in 2008 to produce CLE conferences and webinars on dynamic areas of litigation within mass torts, class actions, insurance, and privacy law. To fill the need for white-label legal and business content, Hagy also founded Custom Legal Content LLC to serve a limited number of carefully selected clients. Hagy is former Managing Editor and Publisher of Mealey's Litigation Reports (now part of LexisNexis) where he expanded a portfolio of litigation news and commentary reports on emerging areas, as well as a parallel conference operation. He is a former vice president of content at LexisNexis, where he led or participated in the development of rich content collections relating to jury verdicts and settlements; briefs, pleadings and motions; and expert witnesses.