Complimentary here from HB.
Also available to subscribers of the
West LegalEdcenter!
CLE: 1 credit (depending on bar rules)
Please send CLE questions to
CLE@LitigationConferences.com



Bernard Bell
Miller Friel


Laura Foggan
Crowell & Moring


---
Your registration includes:
•  The complete recording available for you to watch anytime during the next 30 days.
• Downloadable PowerPoint presentations from our speakers.
•  At least one-hour of CLE credit. (Depending on local bar rules.)
Also available on the West LegalEdcenter.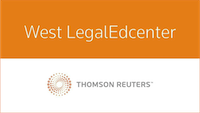 Opioid Disputes Coverage: Insured and Insurer Perspectives
Hundreds of lawsuits have been filed against those in the supply chain for legal and FDA-approved opioid pain medicine, including manufacturers, distributors, pharmacies, pain medicine practices and individual executives and medical professionals.   These defendants have looked to a variety of liability insurance policies for coverage of the claims asserted against them.  This webinar will explore, from the perspective of both insurer and insured, the nature of the claims being asserted, the lines of coverage that have been asked to respond, the main coverage disputes that have arisen and how courts have resolved these issues.
What types of businesses are being sued?  
What claims are being asserted against, and what relief is being sought from, these defendants?
What lines of insurance coverage are these defendants claiming under?
What have been the main disputes regarding coverage?
How have courts resolved these disputes?
---
Speaker Bios

Bernie Bell represents insureds in disputes with their insurers and is a nationally recognized leader in his field.  He is a partner at Miller Friel, PLLC. a boutique law firm with the sole focus of helping corporate clients maximize their insurance coverage.  He pursues insurance recovery across a full range of disputed claims, from property damage and business interruption losses to claims arising from directors and officers (D&O) liabilities, as well as employment, environmental, fiduciary (ERISA), intellectual property, management, product, professional, representations and warranties (R&W), tax position, and toxic tort liabilities.  He regularly appears in courts, arbitration tribunals, and mediations throughout the United States and in London arbitration under the Bermuda Form.  He is recognized in The Best Lawyers in America© in the practice of Insurance Law and is a Fellow of the American College of Coverage Counsel and past co-chair (policyholder side) of the College's First-Party Insurance Committee.   He wrote or co-wrote chapters in the Appleman insurance law treatise on Commercial Property Insurance and Time Element (Business Interruption) Insurance and is a frequent writer and speaker on insurance coverage issues.
EDUCATION
Colgate University cum laude
Fordham University School of Law
An Editor of the Fordham Law Review
---
Laura Foggan chairs the global Insurance/Reinsurance Group at Crowell & Moring LLP, where she represents insurers in complex, precedent-setting disputes nationwide.  She is one of the industry's leading attorneys helping insurance companies address emerging issues and maximize opportunities in the digital age. Described by  LawDragon 500 Magazine as "one of the most successful advocates for the insurance industry to ever practice," and named Washington DC Insurance "Lawyer of the Year" by Best Lawyers (2017), Laura litigates high-profile coverage disputes, product liability, and privacy claims in state and federal courts.  She has participated in more than 300 significant insurance appeals across the country addressing coverage for environmental and toxic tort, asbestos, construction defect, product liability, privacy and cyber security, and many other claims.  A  Who's Who Legal  (2018) Thought Leader for Insurance & Reinsurance,  Laura has significant experience representing insurer trade groups on a wide variety of issues affecting the business of insurance, and advocates for insurers in legislative and regulatory matters. She counsels insurers on emerging issues such as  autonomous vehicles and drones, privacy and cyber liability, global warming (climate change), internet-of-things (IoT), artificial intelligence (AI), and utilization of blockchain or distributed-ledger technology.  Laura also assists in drafting insurance policy forms and endorsements, offering strategic suggestions and form language to meet product goals and regulatory requirements.
EDUCATION
University of Pennsylvania, B.A., magna cum laude
University of Pennsylvania, M.S. Ed
The George Washington University Law School, J.D., with high honors, Order of the Coif