Tuesday | Feb. 18, 2020
2pm ET | 1pm CT | Noon MT | 11am PT
Duration: 75 minutes

---
What you will get:

At least 1 hour of CLE credit.
+
Answers to your questions via live chat and email.
+
A complete set of presentation materials.
+
The opportunity to share with others on your team.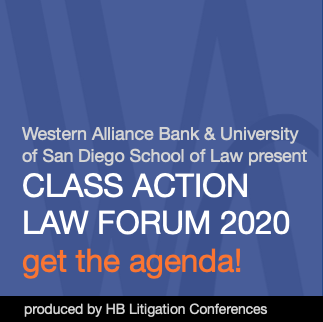 ---
Western Alliance Bank Settlement Services presents 
Wage & Hour Litigation & Enforcement
---
What you should know about emerging trends, barriers and alternate avenues of enforcement in this dynamic area of employment law.
Join Amanda Karl and Jeff Kosbie, attorneys with the class action and complex litigation law firm Gibbs Law Group, on Feb. 18, 2020, for insights gained from their experience representing employees in wage and hour disputes and other aspects of employment law. They will address:
+ Emerging claims and trends in aggregate litigation.
+ Barriers to bringing claims in state and federal courts.
+ Alternate enforcement avenues.
+ California's Private Attorneys General Act.
+ Answers to your questions via live chat.
---
Gibbs Law Group attorney Amanda Karl represents consumers, employees and others who have been harmed by corporations.  She has prosecuted a wide range of complex cases, including product defect, failure-to-warn, wage and hour, data breach, and securities cases, within a variety of industries. Amanda is a 2014 graduate (Order of the Coif) of the University of California at Berkeley School of Law where she served as the Managing Editor of the California Law Review, Director of the Workers' Rights Disability Law Clinic and Research Assistant to Professor Robert Berring, Jr. She worked throughout law school as a Clinical Law Student at the East Bay Community Law Center, assisting with litigation targeting criminal record reporting violations, and as a law clerk at Equal Rights Advocates, working on women's employment issues involving wage and hour law, pregnancy discrimination, ADA and Title VII.  Amanda received her undergraduate degree, magna cum laude, in Sociology and Human Rights from Columbia University in 2009. Following graduation from law school, she served as a law clerk to the Honorable Richard A. Paez, United States Court of Appeals for the Ninth Circuit (2014-2015), and as a law clerk to the Honorable Claudia Wilken, Northern District of California (2015-2016).
Gibbs Law Group attorney Jeff Kosbie represents plaintiffs in class actions and other complex lawsuits involving consumer protection, securities fraud and employment law. He previously worked as a staff attorney in the United States Court of Appeals for the Ninth Circuit (2017-2018) and served as a Multidistrict Litigation Law Clerk to the Judges Lucy Koh, Beth Freeman, and Edward Davila of the Northern District of California (2018-2019). Jeff serves as Co-chair of Bay Area Lawyers for Individual Freedom ("BALIF"), the nation's oldest and largest association of lesbian, gay, bisexual and transgender (LGBTQI) persons in the field of law, and he is on the board of the BALIF Foundation.  He has published multiple articles in law reviews related to the history of LGBTQ rights. Jeff is a 2015 graduate, magna cum laude, of Northwestern University School of Law and Northwestern University Graduate School where he received a J.D. and a Ph.D. in Sociology. While in law school, Jeff served as an Articles Editor of the Northwestern Journal of Law and Social Policy.  He received his undergraduate degree, summa cum laude, Phi Beta Kappa, in Sociology from Brandeis University in 2006.
---
You may also be interested in this!
Western Alliance Bank and University of San Diego School of Law present
CLASS ACTION LAW FORUM 2020