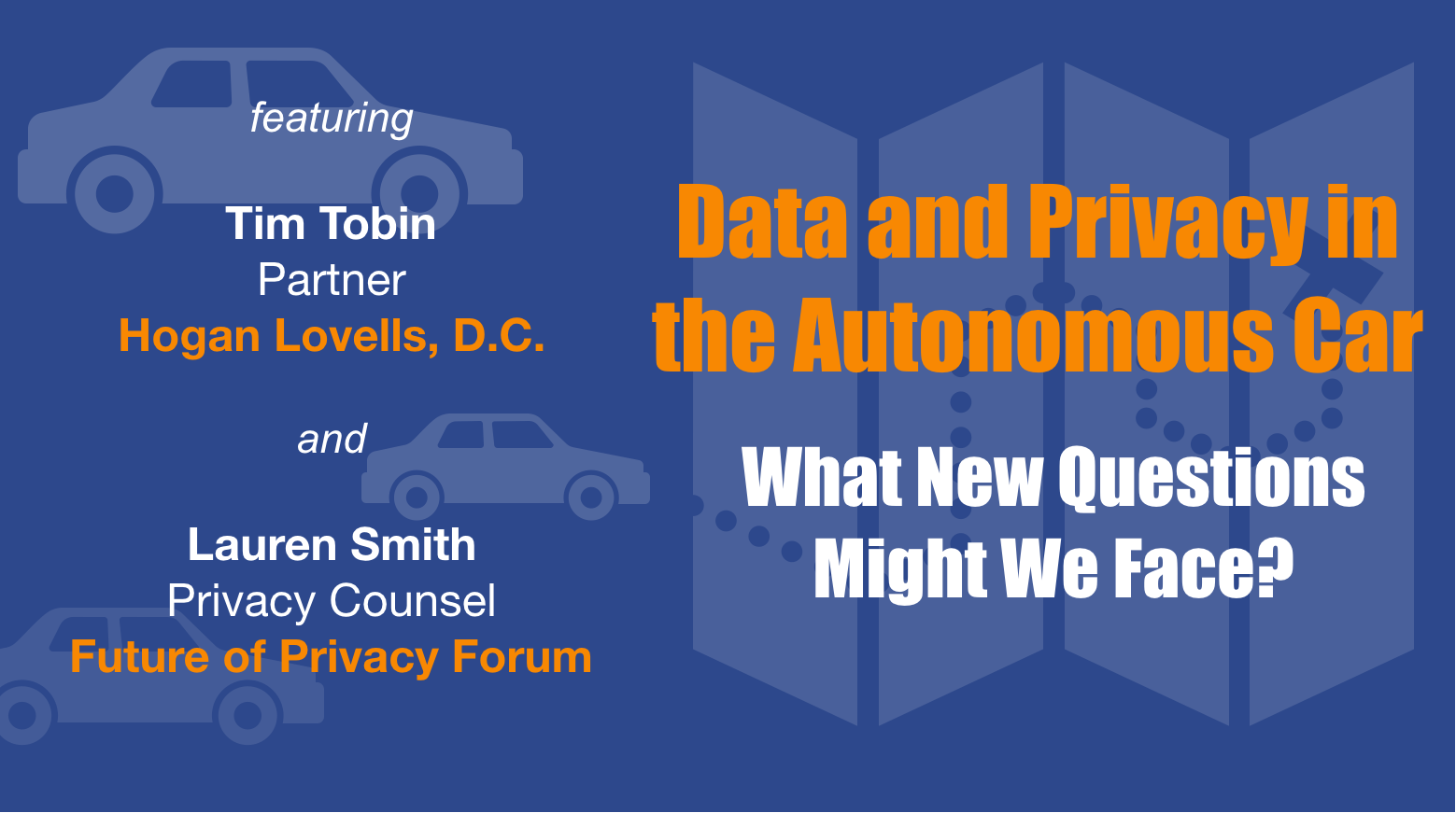 ---
Autonomous vehicles are positioned to transform the future of mobility—a change enabled by new on-board sensors that collect and transmit growing types and quantities of data.
While data in vehicles is not entirely new, autonomous vehicles promise an explosion in the variety, connectivity, volume of such data. As consumer privacy increasingly becomes a contentious political issue, autonomous cars will raise new and unique considerations around what happens with that data—and how it is protected. As the automotive industry becomes more data-driven, getting consumer privacy right will become increasingly important for both car companies and technology companies that build in-car devices.

   

Price: $97 (

Register by 8/31 for $47!

)
Thursday, Sept. 11, 2019

2 pm ET |1pm CT | Noon MT | 11am PT
SPEAKERS
Tim Tobin
Partner
Hogan Lovells
Lauren Smith
Policy Counsel

Future of Privacy Forum
Presented by 
Oct. 14-16, 2019
Washington, DC
Learn more
Get 25% off with code:
PSA25-hb
Our Speakers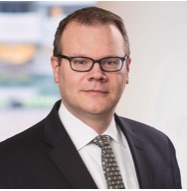 Tim Tobin, Partner, Hogan Lovells. Whether in marketing and advertising, contracting and deals, the development of new products and technologies, cross-border data sharing, or within the workplace, he helps clients understand their obligations to protect data and is a trusted counselor for how they can lawfully collect, use, and share personal information. Whether the issue relates to state laws such as the California Consumer Privacy Act, federal laws such as the Children's Online Privacy Act; the Gramm-Leach-Bliley Act; and the Telephone Consumer Privacy Act, or international laws such as the EU General Data Protection Regulation, Tim provides practical, risk-based advice so clients can focus on the bottom line.
Tim is always at the ready to help when a business experiences a security incident, having counseled companies on hundreds of data breaches since the early implementation of data-breach notification laws. Tim also helps clients prepare before a data breach happens; he has helped numerous companies with incident response preparedness plans and exercises. He helps companies with regulatory investigations, having represented clients across a range of consumer protection issues, including privacy, data security, and advertising, as well as in investigations before the Federal Trade Commission, the Consumer Financial Protection Bureau, and the U.S. Department of Justice.
Tim helps clients from a broad array of industry sectors that includes automotive, financial services, defense, education, retail, technology, and entertainment.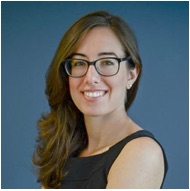 Lauren Smith, Policy Counsel. Lauren Smith, CIPP/US, is Policy Counsel at the Future of Privacy Forum (FPF), where she focuses on big data and the Internet of Things as related to connected cars, data ethics, algorithmic decision-making, and drones. Lauren leads the FPF Connected Cars Working Group, and serves as an expert and thought leader across the country through speaking engagements, media interviews, and interaction with state and federal regulators and strategic partners. 
Prior to working at FPF, Lauren was a Policy Advisor in the White House Office of Science and Technology, where she played a core role in the White House Big Data report, the launch of the Precision Medicine Initiative, and policy initiatives around privacy, intellectual property, regulatory policy, and innovation for global development. She was previously a Research Associate for Economic Policy at the Center for American Progress. Lauren is a graduate of Wesleyan University and the UC Berkeley School of Law, where she earned a Certificate in Law and Technology.