The number and severity of data breaches and the subsequent actions against breached entities are growing. Suits are settling for many of millions of dollars (and some would say well under value) and some are getting dismissed outright. What are the courts saying? How are settlements being structured? How are insurance carriers responding? What's on the horizon in this emerging litigation? Join our panel of leading plaintiff and defense attorneys, forensic experts and more as they share their insights from the trenches and years of experience.
---
Program Leaders:
Defense Co-Chairs:   ERIN NEALY COX, an executive managing director,  Stroz Friedberg; and DAVID A. ZETOONY, partner, Bryan Cave. Plaintiff Co-Chairs:  ERIC H. GIBBS, partner at Gibbs Law Group and Girard Gibbs LLP; and THOMAS E. LOESER, partner, Hagens Berman Sobol Shapiro.  Read more about the chairs!
---
Registration:
$795.

$395 for paralegals.
Generous discounted pricing for groups.
Complimentary for sitting judges and regulators.
Sponsors will be able to offer discounts to customers.
This program is for: Litigators, both plaintiff and defense, who need to learn more about this burgeoning area of law. Companies who are engaged in or wish to mitigate or avoid litigation. Insurers who want a deeper understanding of the underling litigation. Legal professionals interested in data breach and privacy litigation.
Accreditation: This event will be eligible for CLE.
---
Thanks to our sponsors!
---
To explore sponsorship options contact:
Brownie Bokelman at Brownie.Bokelman@LitigationConferences.com or call (484) 324-2755 x212.
---
What we will cover: 
A Review of Recent Court Decisions. Why do some cases survive motions for summary judgment and others do not? What do recent decisions tell us about the future of data breach litigation?
A Review of Recent Settlements. How are these cases being valued? What methods are being used? What structures and elements are being employed? What do recent settlements tell us? Are they higher than they should be or are they being settled for less than their value?
Primary Legal Theories in Data Breach Litigation. Get the latest on claims of negligence, failure to comply with notification statutes, invasion of privacy, breach of fiduciary duty, and more.
Primary Defenses in Data Breach Litigation. What goes into the defense that the breach did not cause actual harm? Or the lack of commonality for class action?
Evidence Collection. Strategies and techniques for gathering the data needed to prosecute and defend claims.
Insurance Coverage. How comprehensive is Comprehensive General Liability Insurance? What are the provisions of cyber risk policies and are they worth it? What is the latest in D&O coverage?
Update on Government Enforcement & Regulation. What is happening at the state and federal level? How are these actions proceeding and being resolved?
Case Assessment. What makes a good case for plaintiffs? What makes a good case for defendants?
---
Conference Location:
The Julia Morgan Ballroom
465 California Street
San Francisco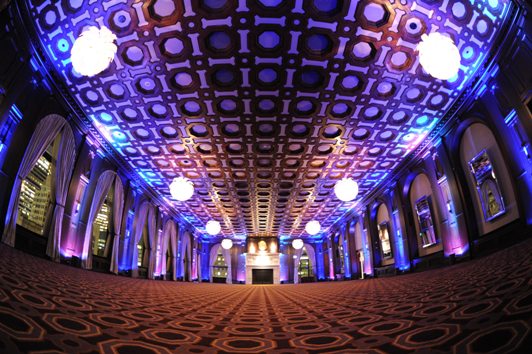 The Julia Morgan Ballroom at the Merchants Exchange is San Francisco's most exclusive special event venue, an architectural masterpiece that combines a timeless Beaux-Arts interior with superior modern amenities. The ballroom's historic significance, breathtaking details, professional production staff and strategic location make it an unparalleled space for any event. The ballroom itself offers more than 4,300 square feet of unobstructed exhibit and event space, and its five accompanying breakout rooms and bar and lounge range from 1,223 square feet to 360 square feet, making the venue flexible enough to handle multifaceted events and multiple breakout sessions. Atop the landmark Merchants Exchange building at California and Montgomery Streets, the Julia Morgan Ballroom boasts an enviable location at the very heart of San Francisco's vibrant Financial District. Strategically positioned amid fine hotels, notable restaurants, cultural attractions and the energy of the City's financial nerve center, the ballroom offers event-goers the best of everything San Francisco has to offer, including numerous public transportation options and abundant evening parking.
---
Why we're doing this: